ERA Protect Smart Home Alarm Kit (5 Piece Bundle)
Further Information
Full Description
The Wireless Home Alarm System is easy to install and ready to use in a few minutes. There is no need to hard wire any accessories as all components are wireless. It can be controlled by a portable remote or via the app, which you can easily download on your smartphone for free. You will receive an instant alert when the alarm is triggered, so you will know straight away if something happens in your house.
What's included:
1 x Hub
1 x PIR Motion Sensor
1 x Door and Window Sensor
2 x Remote Controls
1 x Power Supply
1 x Ethernet Cable
Quick Start Guide and Fixing Kit
Compatibility
The smart home security system is perfect for smaller properties or as a starter pack, which you can expand later. If you have an additional entry door, we recommend adding extra door and window sensors as well as a motion sensor to cover this area. We know that each home is unique, that's why you can choose from up to 96 accessories and customise the kit up to your preference. Every alarm system integrates smoothly with indoor and outdoor ERA Protect security cameras. You can keep an eye on your home, see what happens at the property when the alarm is triggered and exclude the possibility of false alarms.
Cover Plans
Upgrade your security to meet your needs
All ERA Protect products are free to install and use, they always have been, and always will be. The ERA Protect app can be downloaded at no charge and is the key to controlling the smart alarm system you have added to your home. If security cameras are a part of your smart home security system, the app will also give you live streaming footage of your cameras 24/7, at no extra cost. If you want to further increase the level of protection on your home, you may benefit from on of our cover plans features:
Enhanced security measures
Camera recording storage
4G SIM backup
Full professional monitoring
See full ERA Protect range
Add or remove additional accessories at any time
At ERA, we know that no home is the same. That's why you can choose from up to 96 accessories and customise the kits to your preference. All alarm accessories pair to the hub with a touch of a button via the ERA Protect App. Every home alarm system integrates smoothly with additional ERA Protect Cameras and Video Doorbell.
ERA Protect Hub
The heart of your home
With wireless communication, the ERA Protect Hub alarm system is easy to install, set up and operate with no need to hardwire any accessories. The dual path technology means that whether the system uses your broadband internet connection or the built-in SIM card,
you can be sure you're always connected.
Dual path cloud based system with over-the-air updates
App controlled from anywhere, anytime
Connects directly to your router, not dependent on WiFi signal
Embedded 4G roaming SIM back-up, automatically connects to the strongest network signal*
Alarm and cameras can be controlled by a single App**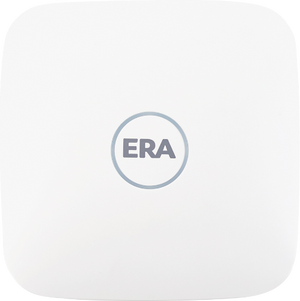 Pet Friendly

Pet Friendly PIR Motion Sensor

An additional pet friendly motion sensor for the ERA Protect alarm system, that secures rooms, hallways and entrance areas by picking up heat and movement when the alarm is activated.

Pet friendly PIR motion sensor, up to 25 kgs Detection zone up to 12m Two way wireless communication Built in tamper protection Compatible with the ERA Protect Wireless Alarm range Simple one touch pairing to your ERA Protect system

Control

Wireless Remote Control

Additional remote control for the ERA Protect alarm allows the system to be armed, home armed and disarmed when entering or leaving the property.

Arm, home and disarm modes Two way wireless communication Plus Action button (Plus members only) Simple one touch pairing to your ERA Protect system Transmitting distance of <100m (in open area) Compatible with the ERA Protect Wireless Alarm range

Accessories

Wireless Door/ Window Sensor

Additional door/ window sensor for the ERA Protect alarm system uses magnets to determine and therefore trigger the alarm when a door/ window has been opened.

Ideal for doors or windows Two way wireless communication Built in tamper protection Simple one touch pairing to your ERA Protect system Wireless connection to the alarm hub Compatible with the ERA Protect Wireless Alarm range