ERA Protect Plus Cover Plan
Further Information
Full Description
ERA Protect Plus Cover Plan Package
Adding ERA Protect Plus to your ERA Protect security system, ensures you stay connected during power-cuts and broadband outage, as the dual path technology automatically routes the alarm signals over mobile networks using the built-in 4G SIM card when the broadband connection is down, so any property security remains active. With ERA Protect Plus, the alarm sensors automatically activate any Protect camera(s) to record what's happening at the scene when an alarm is triggered.
Features
Annual or monthly subscription
4G back-up SIM for alarm
30 day rolling cloud storage and activity log
Works with Alexa and Google Home
Voice calling and SMS notification
Plus action button features
The hub will also automatically call your primary contact number, send an SMS message or push notification when the alarm is triggered to inform you which sensor has activated the alarm and then guide you to take appropriate action. If no one answers or takes the appropriate response to the notifications sent, the ERA Protect Plus service will automatically call your pre-defined trusted contact. ERA Protect Plus also has a secure communication line which is monitored by ERA's unique cloud technology that notifies you whenever the line is down.
The subscription will also give you 30 day rolling cloud storage and a 30 day activity log, so you can see any activities/events from the previous 30 days. Also with Amazon Alexa and Google Home integration you have the option to use 'voice calling' commands to control your security system. You can use this feature to arm or part arm your alarm, disarm with a PIN, turn on/off cameras and much more. You also have the option to personalise the Plus action button on the remote control, keypad and app too. You can set the button up to perform a designated action e.g. turn cameras on/off or send pre-determined text messages to up to 2 mobile numbers.
ERA Protect Plus can be purchased as a 1 month or annual subscription. If you purchase a 1-month only subscription, you can then set up a recurring monthly plan from within the app itself.
How to use your cover plan:
Add to your basket, we will send you a subscription card containing a unique code. Scratch of the panel on the card to reveal to subscription code. In the app, navigate to Account settings, select 'Service level required', tap 'I have a subscription code' and then follow the on-screen instructions.
Please note:
All alarms and cameras are supplied with an ERA Plus subscription for the first 3 months free. This includes 30-day rolling storage for the camera and alarm, plus 4G SIM back-up on any purchased alarm. The free 3-month Plus subscription period will activate on App account creation and will automatically end after 3-months and a paid subscription will be required. A paid subscription can be purchased either via the app itself, online or via our customer service team. Any subsequent subscriptions cannot be added to your account until the initial 3-month period has expired but can be purchased online or via customer service at the point of purchase. Once the initial 3-month period has ended, the app will then prompt you to enter the subscription details.
Single camera packages are available to purchase per camera (up to 4); or upgrade to a Plus package for more benefits. A camera will record on alarm trigger for first 3 months only if no further subscription package has been signed up for and only for Plus packages after that point. Plus Premium can only be activated if the account has at least 1 alarm hub and 1 camera installed. You can only unlock the Plus Premium option once a camera is added to your existing alarm account.
Technical Download Sheets
ERA Protect Hub
The heart of your home
With wireless communication, the ERA Protect Hub alarm system is easy to install, set up and operate with no need to hardwire any accessories. The dual path technology means that whether the system uses your broadband internet connection or the built-in SIM card,
you can be sure you're always connected.
Dual path cloud based system with over-the-air updates
App controlled from anywhere, anytime
Connects directly to your router, not dependent on WiFi signal
Embedded 4G roaming SIM back-up, automatically connects to the strongest network signal*
Alarm and cameras can be controlled by a single App**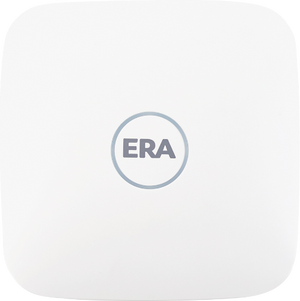 ERA Protect Siren
Deter unwanted visitors
The brightly coloured siren provides a strong visual deterrent for the outside of your property. The comfort flashing lights 24/7 indicate to any potential intruders that the alarm system is live.
LED flashing comfort light to deter would-be intruders 24/7
Strobe lights flash during a triggered alarm state to attract attention
Loud 104dB siren with adjustable duration to alert neighbours
Wireless connection to the alarm hub
Built-in tamper protection and long life battery to reduce maintenance
Compatible with the ERA Protect Wireless Alarm range
See full ERA Protect range
Add or remove additional accessories at any time
At ERA, we know that no home is the same. That's why you can choose from up to 96 accessories and customise the kits to your preference. All alarm accessories pair to the hub with a touch of a button via the ERA Protect App. Every home alarm system integrates smoothly with additional ERA Protect Cameras and Video Doorbell.
Pet Friendly

Pet Friendly PIR Motion Sensor

An additional pet friendly motion sensor for the ERA Protect alarm system, that secures rooms, hallways and entrance areas by picking up heat and movement when the alarm is activated.

Pet friendly PIR motion sensor, up to 25 kgs Detection zone up to 12m Two way wireless communication Built in tamper protection Compatible with the ERA Protect Wireless Alarm range Simple one touch pairing to your ERA Protect system

Control

Wireless Remote Control

Additional remote control for the ERA Protect alarm allows the system to be armed, home armed and disarmed when entering or leaving the property.

Arm, home and disarm modes Two way wireless communication Plus Action button (Plus members only) Simple one touch pairing to your ERA Protect system Transmitting distance of <100m (in open area) Compatible with the ERA Protect Wireless Alarm range

Accessories

Wireless Door/ Window Sensor

Additional door/ window sensor for the ERA Protect alarm system uses magnets to determine and therefore trigger the alarm when a door/ window has been opened.

Ideal for doors or windows Two way wireless communication Built in tamper protection Simple one touch pairing to your ERA Protect system Wireless connection to the alarm hub Compatible with the ERA Protect Wireless Alarm range