Home Security Cameras & Video Doorbells
Looking to tighten your home security?
ERA's range of reliable, high-quality home security systems will help protect your property at all times of the day. Browse through our complete collection to find a smart doorbell or Wi-Fi security camera to suit your requirements. 
Security Cameras & Video Doorbells
Total Security
ERA Protect Smart Home Alarm Kit
Secure next-generation alarm
1st to achieve IoT Kitemark
180 years of security expertise
Safe data - GDPR compliant
Encrypted technology for total security
Whether home or away
Protect your home with our Outdoor Security Camera
24/7 Motion Recording
HD 1080P cloud recording and activity logs
Connect directly to your router or Wi-Fi
Cameras and alarms work from one app
Protected cables for anti-vandalism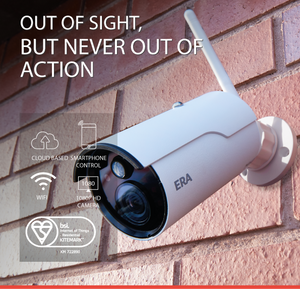 Invest in a high security camera system
Explore a sophisticated range of security cameras to help protect your home from break-ins and ensure the safety of your family. 
Accessible from anywhere via a handy smartphone app, our outdoor CCTV camera systems provide crystal-clear coverage of the areas around your home day and night, with high-quality HD feeds and sophisticated night vision capabilities. 
Built to detect the first signs of motion and movement, they'll also provide an instant live stream and record footage for you to watch over later, allowing you to take action as soon as you need to. 
Further peace of mind can be found in the intelligent two-way talk system of our Floodlight Outdoor Camera, which will also trigger a 950 Lumen light and begin recording as soon as it detects motion. 
Both this system and our Wireless Outdoor Security Camera, have protected wiring to safeguard against tampering and harsh weather conditions, as well as 128-bit SSL encryption to keep your data safe. Discover our extensive selection of WiFi cameras today. 
Make your life easier with a video doorbell
Who's there? See for yourself with the addition of a wireless camera doorbell to your home's first point of entry. Suitable for flats, bungalows and houses, the Smart Home Video Doorbell is ideal for every kind of homeowner and will help you keep tabs on everything going on outside your door. 
With an in-built camera that gives a direct feed to your devices, our doorbell camera offers two-way audio so you can greet visitors and communicate clearly with unwanted guests. 
You'll be able to speak to delivery drivers, postal workers, unexpected well-wishers, and anybody else who appears outside your property from any location, giving you complete control over the events transpiring on your doorstep. 
Our wireless video doorbell connects seamlessly with Google Home and Alexa smart speakers and works best when combined with other home security systems, like our high-powered outdoor and indoor cameras. 
For that all-important peace and mind and even greater home security, purchase one of our video doorbells today. 
One system, one smartphone app. Multitude of capabilities
Built-in 4G Roaming SIM backup
Transfers data from cameras and alarms by SIM of broadband fails
Professional monitoring available
Add multiple people to receive alerts via the ERA Protect App
Flexible cover plans for changing needs
In addition to our suite of burglar alarms and other home security devices, we are proud to offer comprehensive Cover Plans to provide even greater peace of mind. 
ERA Protect Plus 
Ideal for those with multiple cameras, ERA Protect Plus gives you access to a 4G sim backup to ensure constant coverage in the face of an unreliable Wi-Fi connection. This plan also gives you access to 30-day rolling storage of any camera footage and allows you to save video clips for future use. 
ERA Protect Plus Premium
As well as all of the extras provided by ERA Protect Plus, our ERA Protect Plus Premium plan increases your home security by bringing in a professional monitoring team. This 24/7, 365-a-year service ensures that your property is monitored and protected at all times, whether you're at home, out of the house or otherwise engaged. In the event of an emergency, the appropriate services will be contacted and actions taken to secure your property.