Strengthen Your Home Security
Door Accessories
Whatever your style of home, we offer a wide range of door accessories capable of providing your property with the finishing touch.

As has become standard for our products, all of our door hardware is designed to suit any style and will provide the perfect blend of form and function to keep you and your property safe.

Whether you're looking for something traditional or modern, you'll find multiple styles and designs to suit every type of home. Our door accessory range is amongst the most reliable on the market and includes chains, restrictors, viewers, security bolts and more. Purchase door hardware today from ERA today for that much-needed peace of mind.
Simple security measures
Why choose ERA for door furniture?
At ERA, we pride ourselves on supplying high-performance products accredited to British security standards to homes throughout the UK. Our door hardware products are all easy to install and have been rigorously tested to ensure they meet stringent industry standards.

Because it only takes a few seconds to force an unsecured front, back or patio door, it's all too easy for burglars to make their way into your home. Luckily, our high-quality door furniture is the perfect solution for all of your safety requirements.

With everything from hinge bolts and door viewers to chains and bar restrictors, we can help to secure your entry points from attack and prevent thieves from breaking into your property.
Front, rear, patio, composite, wooden or PVCu
High-performance front door accessories
No matter what type of doors you have, we have the ideal security hardware for every scenario. Our range of door furniture is compatible with everything from traditional timber doors to PVCu and composite entrance doors and features easy-to-use safety mechanisms to bolster the security of any home.

As well as being highly functional, our door hardware also comes in various styles and finishes to suit your chosen decor. Whether you prefer brass, chrome or satin, browse our selection to find the most suitable match for your internal or external doors.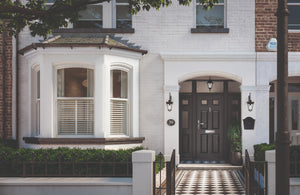 Door handles & door locks
In addition to chains and bolts, we are proud to offer a wide selection of high-quality door handles and door locks.

Like all our door accessories, we design, manufacture and independently test all of these products to ensure they meet the highest levels of quality and security. Explore our door locks and door handles today to put together the perfect combination.