ERA miGuard SL2 Wireless Multi User Solar Siren Alarm System (Red Lens)
Further Information
Full Description
The NEW SL2 completely wireless burglar alarm system, allows multi-user control through a simple keypad. Includes a loud solar siren for visual protection, two wireless pet friendly PIR's, two magnetic door/window sensors and a remote control keyfob to arm and disarm the alarm. The remote also has an SOS button to alert the siren to sound in an emergency. The sensors will alert the siren to sound if the contact on a door is opened, or if the PIR picks up body heat movement.

Features:
Ideal for a wirefree DIY installation for properties with multi-users. The simple wireless keypad can be installed by the entry door so users can arm, disarm, stay after inputting a passcode or use a personal disarm RFID tag (purchased separately) close to the RFID reader to disarm the system. The keypad uses a 4 Digit user code for enhanced security and an LED indication light when any function is performed. With the option of exit delay settings and a speed SOS Dial Panic function. Keypad is battery powered, supporting RFID cards, tags and other 125KHz passive transponders and has a transmitting distance of 80m (in open area).

The siren is easy to install, with no wiring needed as its charged by a solar panel there is no mains power required. Fully weatherproof stylish design is IP55 rated and full tamper protection. The siren is a visual deterrent for the outside of your property and is fitted with in built jamming detection. The built-in 3.7V/1200mAh lithium battery enables 45-day standby. With a 110dB loud siren with selectable duration (30sec./3min./5min.) and volume is adjustable (High/Low/Mute).

With intelligent analysis the PIR effectively identifies interference signals from body movement signals and reduces false alarms. With automatic temperature compensation and anti-air turbulence technology, it easily adapts to environmental changes. The detector also has the advantages of energy saving, reliability and easy installation and has detection coverage of 8m and an angle of 110° making it ideal for any room. The walk test mode allows for easy set up and the low power LED indication ensures you are notified when the power is running low. Suitable for use in homes with pets up to 25kgs it detects movement within the sensor zone and when system is in arm mode will send a signal to the alarm to activate. The walk test mode allows you to test the PIR during set up and comes with built in tamper protection. With an internal antenna the transmitting distance is 80m (open area).

The two way door/window magnetic sensor can be installed on doors, windows and any other objects that open and close. The sensor transmits signals to the control panel when a magnet mounted near the sensor is moved away. It will also transmit an alert signal to the control panel in case of a low battery. The tamper protection ensures that sabotage attempts to move the contact will result in alarm activation. Sitting discreetly on any window/ door, the sensor is battery powered with no wires. Using the sensor on an Entry/Exit route provides protection when the main Entry points are opened. The energy saving internal antenna has a transmitting distance of 80m (open area).

The remote control allows you to arm, disarm and part arm. The large button design makes it easy to use and has a panic SOS button for emergency use. Ideal to fit on your keyring, the remote is compact and portable for easy transportation. The SL2 kit can be used as a stand alone burglar alarm system or as an accessory pack (compatible with any ERA miGuard or ERA HomeGuard burglar alarm systems and sensors). The kit can be further expanded with additional accessories from the ERA 433MHz range.

In the box: 1 x Keypad, 1 x Solar Charged Siren, 2 x Pet Friendly PIR Sensors, 2 x Magnetic Sensors, 1 x Remote Control, all fixings and batteries, installation and operating instructions.

Please note: the NEW SL2 kit operates on 433MHz frequency and is not compatible with the original SL2 kit or the accessories as these operate on the 868MHz frequency. Image for illustration only, the colour of the siren light panel may vary (blue - older model or red - latest model). This is an part assembled kit and some of the accessories will need to be paired before installation.
Technical Download Sheets
ERA Protect Hub
The heart of your home
With wireless communication, the ERA Protect Hub alarm system is easy to install, set up and operate with no need to hardwire any accessories. The dual path technology means that whether the system uses your broadband internet connection or the built-in SIM card,
you can be sure you're always connected.
Dual path cloud based system with over-the-air updates
App controlled from anywhere, anytime
Connects directly to your router, not dependent on WiFi signal
Embedded 4G roaming SIM back-up, automatically connects to the strongest network signal*
Alarm and cameras can be controlled by a single App**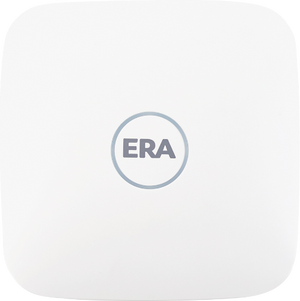 ERA Protect Siren
Deter unwanted visitors
The brightly coloured siren provides a strong visual deterrent for the outside of your property. The comfort flashing lights 24/7 indicate to any potential intruders that the alarm system is live.
LED flashing comfort light to deter would-be intruders 24/7
Strobe lights flash during a triggered alarm state to attract attention
Loud 104dB siren with adjustable duration to alert neighbours
Wireless connection to the alarm hub
Built-in tamper protection and long life battery to reduce maintenance
Compatible with the ERA Protect Wireless Alarm range
See full ERA Protect range
Add or remove additional accessories at any time
At ERA, we know that no home is the same. That's why you can choose from up to 96 accessories and customise the kits to your preference. All alarm accessories pair to the hub with a touch of a button via the ERA Protect App. Every home alarm system integrates smoothly with additional ERA Protect Cameras and Video Doorbell.
Pet Friendly

Pet Friendly PIR Motion Sensor

An additional pet friendly motion sensor for the ERA Protect alarm system, that secures rooms, hallways and entrance areas by picking up heat and movement when the alarm is activated.

Pet friendly PIR motion sensor, up to 25 kgs Detection zone up to 12m Two way wireless communication Built in tamper protection Compatible with the ERA Protect Wireless Alarm range Simple one touch pairing to your ERA Protect system

Control

Wireless Remote Control

Additional remote control for the ERA Protect alarm allows the system to be armed, home armed and disarmed when entering or leaving the property.

Arm, home and disarm modes Two way wireless communication Plus Action button (Plus members only) Simple one touch pairing to your ERA Protect system Transmitting distance of <100m (in open area) Compatible with the ERA Protect Wireless Alarm range

Accessories

Wireless Door/ Window Sensor

Additional door/ window sensor for the ERA Protect alarm system uses magnets to determine and therefore trigger the alarm when a door/ window has been opened.

Ideal for doors or windows Two way wireless communication Built in tamper protection Simple one touch pairing to your ERA Protect system Wireless connection to the alarm hub Compatible with the ERA Protect Wireless Alarm range