Smart Security - What do you need to know?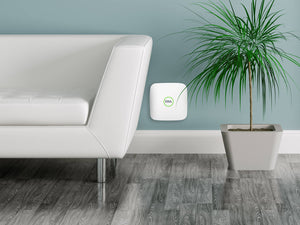 Your home's overall impression plays a big part in deterring opportunists. Visible home security system can successfully prevent unpleasant incidents. But how to start your smart security journey? This handy beginners guide provides all the crucial information on solutions that are available to purchase, solution installation, what to look for when choosing a smart security system and much more. 
Traditional home security vs smart home security 
Traditional alarm systems are wired and usually include only a siren. When the siren is triggered, the sound may deter the potential burglar, but if you are not at home , you are relying purely on your neighbours to contact and notify the police. 
On the other hand, smart home security systems are wireless, and are connected via the internet. Allowing you to access and operate the system remotely using a smartphone from anywhere in the world and at any time. The digital connection allows instant notifications, so as soon as the alarm is triggered, you will get an alert and will be able to take necessary actions yourself. Additional accessories like smart security cameras allow you to monitor what is happening in your home live. 
Power Cut 
The ERA Protect devices have built-in roaming SIM card. When the internet connection is lost, the SIM card is activated enabling uninterrupted connection. All the main powered devices, like the smart hub, have a battery backup. If the burglar cuts the wire or there is a sudden blackout, the alarm system will use battery power.  You will also receive a push notification to alert you  the potential internet problems at your home. 
Available accessories 
Smart alarm systems can be expanded with accessories like motion detectors, smart security cameras, video doorbells and sirens. 
The door and window sensors are a great solution to improve the perimeter security. The magnetic device triggers the alarm when the link is broken. You will receive an instant notification with the information including which sensor has been activated. 
The indoor camera and PIR motion detector secure the interior of your home. You can keep an eye on your belongings or pets with the live view. The PIR sensor detects movement in the room, and as its  pet friendly it will disregard small to medium sized animals, so pets can roam freely around the property without causing a trigger.  
To improve door security you can install the video doorbell or outdoor cameras. You can choose from a classic external CCTV camera or floodlight camera. All the devices allow two-way communication,  to enable you can  to see what is happening around your property.
Installation 
The system is designed to be a simple intuitive DIY install. All the devices are set up through a smartphone app and all you need for  installation are some basic tools. If you are not feeling comfortable with self-installation, you can use the service of one of the approved professional installers. 
What to look for when choosing a smart home security system? 
The BSI IoT (Internet of Things)* Kitemark is an independent standard to ensure that products meet certain criteria of excellence. In the case of smart alarms, the BSI Kitemark is a symbol of trust  in terms of a products quality and security level, especially in terms of data protection. 
To achieve a kitemark, data encryption must meet the stringent threshold set by British Standard Institute, providing assurance that data is fully secured and GDPR (General Data Protection Regulation) compliant.  
Products with BSI Kitemark are externally verified and audited on regular basis.  
*IoT (Internet of Things)  - any device that uses the internet to communicate (smartphone, smart thermostats, smart TV etc.) 
Which?  – a well-respected organisation championing consumer rights and supporting consumers to make informed buying choices. When looking to buy new products for your home, from TVs to washing machines, consumers often look to the opinions of unbiased third parties to feel assured that they will be buying a quality product that works well and provides value for money.   
The ERA Protect Core Kit received a Which? Best Buy endorsement for burglar alarms in September 2021. Put through its paces by the reviewers at Which?, the Core Kit pitted it against competitor products and found it to be one of the best and deserving of the recognition of a Best Buy badge, stating that "if you like the ERA brand, you can't go wrong with the Protect Core Kit." The Core Kit is a great way to introduce smart security into your home. With internal sensors to protect your entrances and rooms, and an external siren to act as a visual deterrent, this smart alarm system will allow you to protect your home from anywhere in the world.