Keep your home secure while on holiday in 2022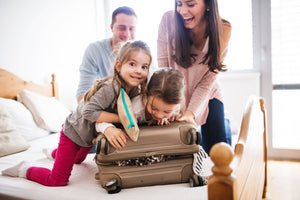 This year more than ever we finally deserve a holiday. But as the sun comes out, so do burglars and break-ins are on the rise. According to a study by Statista on average, home burglaries spike 10% between June and August. Fortunately, there are a few simple steps you can follow to protect your home and guarantee yourself a stress-free holiday.
Don't make it obvious
Most burglars will target properties which are clearly unattended or have no obvious security. Before leaving for holiday make arrangements with friends or trusted neighbours. Ask them to collect parcels and letters, to make sure they're not building up on the doorstep. You could also invest in a smart video doorbell, which will allow you to not only monitor your home while you're away, but see and speak to the person at your door. Allowing you to direct the delivery person where to securely leave your parcel.
If you're already using a smart home security system, share your spare remote control with a friend and ask them to visit your home while you're away, walk around and switch on the lights in different rooms. Making the house look occupied is one of the most effective ways of deterring opportunists.
67% of burglars break through the front door
It may be easy to forget about the simplest security measures in the holiday rush. Make a checklist and be sure to action it before leaving. Ensure that both front doors and windows are locked and double-check the rear entrance. Make sure that your door lock meets the latest security standards and has a British Standard Kitemark accreditation. It's worth investing in a 3 Star Cylinder for maximum protection. These cylinders offer excellent resistance to forced entry and if attacked, a security pin automatically triggers blocking the door lock preventing unlawful entry.
Don't leave valuables in visible or obvious places. Hide smaller items and if possible move bigger items away from the windows.
Keep an eye on the garden
Garden valuables are one of the most common targets of domestic burglaries. It's vital to treat garden security seriously. Make sure to put away all the outdoor furniture and bikes. If you own a garden shed or garage, apply additional security measures. Make sure it's securely locked and add an extra padlock where needed.
Consider installing security cameras to keep an eye on the outbuildings. The integrated smart home alarm will immediately alert you when any motion is detected. You can check what's happening around your home in real-time and take any necessary action. You can even hear and speak to potential trespassers through selected cameras thanks to a built-in two-way talk. A floodlight camera will additionally trigger the spotlight when any movement is detected, deterring any intruders.
Invest in professional monitoring
If you're looking for ultimate peace of mind while on holiday and need something more than just a standard alarm system, then professional monitoring can prove invaluable. Regardless of where you are in the world, professional monitoring will look after your home, for added reassurance that your house will be protected while you're away. If the alarm triggers, the security professionals will take a look at your security cameras and alarm system to assess if there is a genuine intruder. They will determine an appropriate course of action and notify the authorities if needed. Your home is completely covered, while you relax and enjoy your holiday without worry. 
Do you want to learn more about how to take control of your home protection? Visit our pre-built alarm kits section or build your own unique system tailored to your home.