ERA celebrates 185 years of excellence!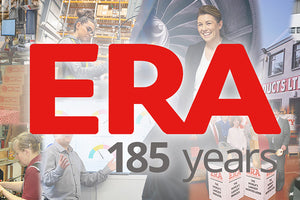 ERA, one of the UK's leading home security and fenestration component providers, is celebrating its 185-year anniversary.
Founded by John Reynolds in 1838, ERA has grown from a one-man locksmith business in Fletcher's Lane, Willenhall, to a national home security provider with more than 185 employees.

The milestone is a reflection of ERA's unwavering commitment to providing customers with the highest standards of product innovation and service, whilst setting the benchmark for compliance and quality.

The business' continued success and growth is a testament to the hard work and dedication of its employees, with almost a third of the team enjoying over 10 year's service. In the last 18 months alone, ERA has supported thousands of customers across the UK, supplying more than 42 million pieces of hardware from its extensive portfolio of mechanical products, decorative furniture and its expanding range of smart security solutions.

Sustainability goals have also been achieved this year, with ERA's state-of-the-art facility, near Wolverhampton, now fully powered by 100% renewable resources. Plus, Tyman's UK & Ireland Divison, to which ERA belongs to, has received approval of its near-term science-based reduction targets (SBTs) by the Science Based Targets Initiative (SBTi). This means the division's target to reduce its absolute Scope 1 and 2 greenhouse gas emissions by 46.2% by 2030 (from a 2019 base year) has been approved, as has its absolute Scope 3 greenhouse gas emissions target of a 27.5% reduction, by the same deadline.

Helen Downer, President of Tyman UK & Ireland, said: "Celebrating 185 years in operation is a significant achievement for the business and we are extremely proud to be recognising almost two centuries of success. Our longstanding focus on putting our customers and employees first has been the key to reaching this milestone.
Find out more about ERA's 185th anniversary below!