ERA Protect Core Kit awarded Best Buy stats by consumer rights champion, Which?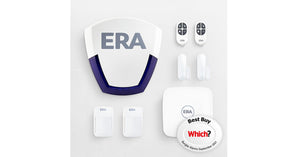 Consumer rights brand, Which?, a well-respected organisation championing consumer rights and supporting consumers to make informed buying choices, has awarded the ERA Protect Core Kit with their Best Buy badge, a signifier of a quality, value product.   
When looking to buy new products for your home, from TVs to washing machines, consumers often look to the opinions of unbiased third parties to feel assured that they will be buying a quality product that works well and provides value for money.   
Here at ERA, we're delighted that our Core Kit, one of our bestselling smart alarm kits, has received a Which? Best Buy endorsement. The Core Kit was put through its paces by the reviewers at Which? who pitted it against competitor products and brands and found it to be one of the best, and deserving of the recognition of a Best Buy badge, stating that "if you like the ERA brand, you can't go wrong with the Protect Core Kit"*.  
All ERA products are developed and created with the customer in mind, and we believe wholeheartedly in the quality of our products. It's very rewarding to know that a trusted third-party has considered the ERA Protect Core kit and feel it is deserving of the Best Buy accreditation. It is also good to know that there is additional impartial advice now available which helps customers in making an informed  purchasing decision. 
The Core Kit is a great way to introduce smart security into your home. With internal sensors to protect your entrances and rooms, and an external siren to act as a visual deterrent, this smart alarm system will allow you to protect your home from anywhere in the world.  All controlled via a smartphone app, you can peace of mind every time you are away from your property.  
The first smart security system to achieve the BSI IoT Kitemark, ERA Protect combines over 180 years of security expertise with bank-level data encryption to deliver a buildable, affordable security system that homeowners can trust.  
*taken from the full Which? review, found here.