Further Information
Full Description
ERA Protect Wireless Alarm Keypad
The Keypad is a great addition to any intruder alarm system and for larger properties. It can be used as a secondary device if you prefer to use control panel rather than the app to operate the alarm. You can have multiple keypads assigned to a single Hub. We recommend placing the alarm control panel outside entry or secondary door, so you can quickly arm and disarm or part set the alarm when entering or leaving the house.
You can easily activate the alarm by inputting a 4-digit user passcode. The LED indicator light and keypad tone will indicate which action is performed.
The Alarm Keypad is wireless and has transmitting distance of 100m (in open area). It is powered by AAA batteries and has a handy low battery indicator. The system is easy to set up and can be wall mounted with either the 3M pad or screws provided. The Keypad is tamper proof so you will receive a notification if anyone tries to remove it from the wall or destroy.
The Wireless Keypad can be installed near an entry point and you can arm and disarm your alarm by inputting a passcode. The Keypad can be paired with RFID tags (purchased separately) allowing you to disarm the system by simply swiping the tag. It's ideal for children who don't have access to a smart phone app or struggle to remember the access code. 
Compatibility
All alarm accessories pair to the hub with the touch of a button via the IOS and Android App and you can choose from up to 96 accessories. We know that each home is unique, that's why all of the security systems are expandable and you can customise them up to your preference. Every alarm system integrates smoothly with indoor and outdoor ERA Protect security cameras. You can keep an eye on your home, see what happens at the property when the alarm is triggered and exclude the possibility of false alarms.
Accreditation
Our smart security products were one of the first alarm systems to be granted BSI Kitemark for IoT Devices and have been through intensive testing. All of that to give you the extra peace of mind and confidence that your home and data are fully secure.
*This accessory is not compatible with the ERA miGuard, ERA HomeGuard, ERA EasyHome, Y-cam Protect, Response SA or Response SL alarm system. If you are unsure of compatibility, please check before purchase or contact one of our advisors.
Technical Download Sheets
ERA Protect Hub
The heart of your home
With wireless communication, the ERA Protect Hub alarm system is easy to install, set up and operate with no need to hardwire any accessories. The dual path technology means that whether the system uses your broadband internet connection or the built-in SIM card,
you can be sure you're always connected.
Dual path cloud based system with over-the-air updates
App controlled from anywhere, anytime
Connects directly to your router, not dependent on WiFi signal
Embedded 4G roaming SIM back-up, automatically connects to the strongest network signal*
Alarm and cameras can be controlled by a single App**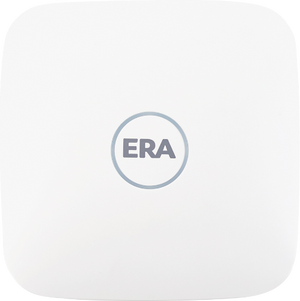 ERA Protect Siren
Deter unwanted visitors
The brightly coloured siren provides a strong visual deterrent for the outside of your property. The comfort flashing lights 24/7 indicate to any potential intruders that the alarm system is live.
LED flashing comfort light to deter would-be intruders 24/7
Strobe lights flash during a triggered alarm state to attract attention
Loud 104dB siren with adjustable duration to alert neighbours
Wireless connection to the alarm hub
Built-in tamper protection and long life battery to reduce maintenance
Compatible with the ERA Protect Wireless Alarm range
See full ERA Protect range
Add or remove additional accessories at any time
At ERA, we know that no home is the same. That's why you can choose from up to 96 accessories and customise the kits to your preference. All alarm accessories pair to the hub with a touch of a button via the ERA Protect App. Every home alarm system integrates smoothly with additional ERA Protect Cameras and Video Doorbell.
Pet Friendly

Pet Friendly PIR Motion Sensor

An additional pet friendly motion sensor for the ERA Protect alarm system, that secures rooms, hallways and entrance areas by picking up heat and movement when the alarm is activated.

Pet friendly PIR motion sensor, up to 25 kgs Detection zone up to 12m Two way wireless communication Built in tamper protection Compatible with the ERA Protect Wireless Alarm range Simple one touch pairing to your ERA Protect system

Control

Wireless Remote Control

Additional remote control for the ERA Protect alarm allows the system to be armed, home armed and disarmed when entering or leaving the property.

Arm, home and disarm modes Two way wireless communication Plus Action button (Plus members only) Simple one touch pairing to your ERA Protect system Transmitting distance of <100m (in open area) Compatible with the ERA Protect Wireless Alarm range

Accessories

Wireless Door/ Window Sensor

Additional door/ window sensor for the ERA Protect alarm system uses magnets to determine and therefore trigger the alarm when a door/ window has been opened.

Ideal for doors or windows Two way wireless communication Built in tamper protection Simple one touch pairing to your ERA Protect system Wireless connection to the alarm hub Compatible with the ERA Protect Wireless Alarm range